Twine Garage
Make your garage door smart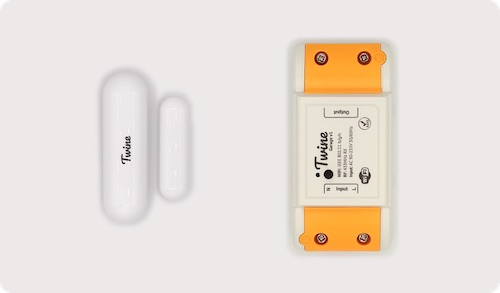 Twine Garage is a small device to attach to your garage door opener which adds a load of smart features. Check your garage door status from anywhere in the world, open and close it using your phone, connect with your smart speaker for notifications and see a history log.
Features
Control your garage door from anywhere in the world. Secure and safe - never worry about whether or not you have left your garage door open again!
Keep a log of when your garage door was opened and closed
Warnings and instant alerts when garage door is opened or stays open for too long
Works with any garage door that accepts external controls (see compatibility list)
Integrated with Google Home, Alexa, Siri and SmartThings (see smart home integration)
Easy to install: Twine Garage uses a wireless door sensor and requires no special knowledge (see installation guide)
Share temporary access to your trusted persons using smart links (coming soon)
How does it work?
Activate the Twine Garage app by clicking on the app icon. Then, simply tap the lock icon to open or close the garage. You can also configure settings for notifications, integrate with smart home services and see logs of your garage activity.
Is my garage door compatible?
Twine Garage works with any garage door that accepts external controls. See the compatibility list:
Garage Door Compatibility List
Why choose Twine Garage?
European product
Twine Garage is produced with

in The Netherlands, Europe.
Unlike many other IoT and smart devices, all software (both the mobile app and hardware firmware) is produced in-house by our team.
We do not use or license any Chinese software or services, and all our data is protected according to strict EU (privacy) laws such as GDPR.
2 years warranty
We believe in our product, that's why we provide a 2-year warranty on your purchase of the Twine Garage.

In addition, we provide regular updates to both the mobile app and hardware firmware, to keep everything secure and up-to-date.
Customer support
Setting up Twine Garage is a breeze.

But in case you encounter any issue, we offer excellent support. If you have any problem you can't fix, simply contact us and we'll make sure your problem is taken care of properly!
How to buy
If you are interested in buying the Twine Garage, please check one of the following resellers: